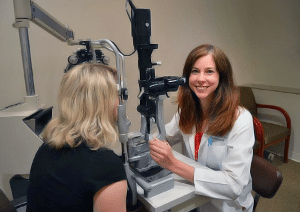 Comprehensive eye care is the foundation of our practice. From birth to 100+ years we provide for all phases of your eye care, including optical, medical and surgical care. Having routine annual or biennial eye exams is important for the health and well-being of your eyes. Problems detected early can be treated effectively often preventing visual loss which, once it occurs, may be irreversible.
A routine comprehensive eye evaluation includes an analysis of your chief complaints (or reason for the visit), past ocular and medical history, review of current medications and allergies and social history. The examination itself includes:
Check current visual acuity
Computer and subjective analysis of the refractive error to ascertain the best possible vision
External examination of the eyes and surrounding structures
Check pressure in the eyes
Check pupils response to light and accommodation
Check extra-ocular alignment and motility
Pupils are dilated to allow a thorough microscopic examination of the anterior segment of the eyes, including the cornea, anterior chamber, iris and lens
Biomicroscopic examination of the posterior segment of the eyes with attention to the vitreous, optic nerve, retinal vessels, macula and the peripheries
Ancillary tests performed as necessary
As the pupils are dilated, patients are instructed to bring a driver if necessary and complementary sunglasses are provided for comfort. The effects of dilation usually wear off in 2-4 hours.
Contact Us!