In 1977, Dr. Richard Carlin, a young ophthalmologist recently discharged from the United States Navy, came to Gwinnett County and started his practice in a 1,200 square foot office on Scenic Highway, with one employee and one examining lane.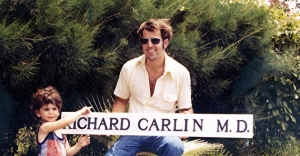 The first week in practice he proudly saw 39 patients, wallpapered the patient bathroom and made numerous trips to the office supply store.
As the third Ophthalmologist in Gwinnett County, then the fastest growing county in the United States whose population was approaching 100,000, he felt confident there was a need for advanced eye care in this rapidly growing area. Indeed, most people who lived "out in the country" went to Atlanta for their eye care.
His wife Enid enrolled in the Counseling Psychology PhD program at the University of Georgia and his son David was 4 years old. At that time the only local hospital was Button Gwinnett in Lawrenceville, where cataract surgery was performed as an in-patient procedure, requiring a two day hospital stay and a large surgical wound requiring eight stitches. Intraocular lens implants were new and many patients opted to wear thick "cataract" glasses or contact lenses after their procedure, rather than having the new "untested" lenses. Soft contact lenses were just being introduced and there were only a couple of types on the market, so many patients were not candidates and had to wear hard lenses. There were no progressive eyeglass lenses, so after age 40 all patients wore bifocals or trifocals with lines that revealed their age. The idea of refractive procedures to eliminate glasses was not even dreamed of.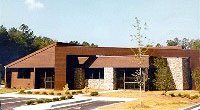 The practice thrived and by 1979 the staff doubled in size to two and the office space boasted three examining lanes! When the storage closet became the Contact Lens area, it was clear that more space was required so land was purchased at 2347 Lenora Church Road and a new office was constructed in 1980, which coincided with the opening of the Gwinnett Community Hospital on Fountain Drive (later known as Humana, Columbia, Emory Eastside Medical Center and Eastside Medical Center which is now located on Tree Lane Road) and the influx of new doctors and specialties. Also, Enid finished her Ph.D. and opened the Gwinnett Center for Marital Counseling in the same building. The Carlin's second child, Erica, was born in the "new" hospital shortly after it opened.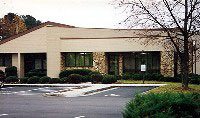 The practice continued to grow, advances in techniques and instrumentation were acquired and staff was added. Soon the office had to be enlarged, which was a bit disconcerting because this was only two years after the office was built! After 14 years of working six days a week and taking all his own night calls, Dr. Carlin knew he needed help, so in July of 1991 Dr. Michael A. DeRosa moved from Virginia to join the practice. His arrival was marked by the birth of his fourth child shortly thereafter. He also has a daughter and two twin boys.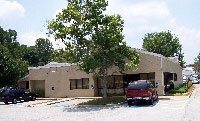 Of course, the growth did not stop there. The office was expanded again and The Optical Boutique was added. More examining lanes and a larger reception area and business office were added to make room for Dr. Blake Thornhill in July of 2000. Along the way, we changed our name to CarlinVision*. Dr. David Carlin came to the practice in July 2004 to join his Dad and Dr. Melanie Bennett-Sims joined our practice in October 2008.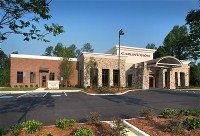 But with new doctors and new technology, we again outgrew our facility. With no more land to expand, we built a brand new state-of-the-art facility just two doors down the street at 2377 Lenora Church Road and moved in December 2009. Three times the size of our old office, it boasts all the latest in technology and innovation including our own in-office surgical suite, dedicated climate-controlled lasik suite and is even WiFi compatible.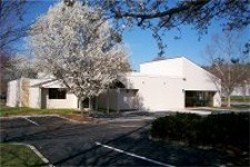 In the Spring of 2011 our very own ambulatory surgical center – CarlinVision Surgery Center – opened two doors down in our previous facility. It is designed solely for eye patients combining the latest in ophthalmic surgical technology with "the home-town touch".
Soon after, Dr. Allison R. Tyler joined the practice in October 2011.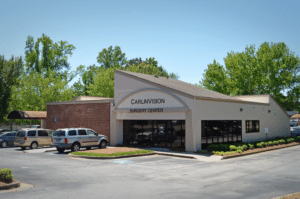 In April 2019 our CarlinVision Surgery Center received a facelift to coordinate with our main facility.
Medical Retina Specialist, Dr. Dimple Modi, joined the practice in September 2019.
As the largest, most experienced eye care practice in Gwinnett County, CarlinVision has seven doctors — six ophthalmologists and one optometrist. We employ 65+ people. A few of our staff speaks English, Spanish, Bosnian, and we also offer a video interpreter service. Dr. Dimple Modi, our Medical Retina Specialist, speaks Gujarati and Hindi. We provide all phases of eye care using the latest technology.
We are in the forefront of refractive procedures and offer the full range, including iDesign® Lasik, Phakic ICLs, and Refractive Lens Exchange. We have the latest technology for removing cataracts — Laser Cataract Surgery — for a less invasive, more accurate and safer cataract surgery experience. We offer not just one, but all FDA-approved premium intraocular lenses including Crystalens™ AO, Tecnis® and ReStor® multifocals for patients undergoing cataract surgery who would like to reduce or eliminate wearing glasses after their procedure. We perform cosmetic eyelid surgery (Blepharoplasty) for droopy eyelids right in our own state of the art surgery center. Our fellowship-trained cornea specialist is up-to-date on corneal and external eye diseases.  Our Dry Eye Service provides customized dry eye treatment for moderate to severe dry eye. Our Retina Services offers care for those with diabetes, macular degeneration and floaters and flashes. We offer the latest in contact lenses including extended wear and bifocals.
The Optical Boutique, located in CarlinVision, employs five full-time opticians and uses only the finest in lenses and frames including designer and fashion so that they can give our patients the best look and vision that they deserve at an affordable price.
CarlinVision Surgery Center uses state-of-the-art technology with specially trained nurses and anesthesiologists in a comfortable home-town atmosphere. Procedures including cataract surgery, glaucoma, corneal transplants and cosmetic eyelid surgery are performed here without the need to go to a hospital.
Why the name CarlinVision?
The name signifies our belief of what eye care should be and how it is provided. Our "vision" is that the care we offer should be the most sophisticated and advanced, incorporating all the latest techniques and technologies. The office itself should be warm and inviting with amenities to make people feel "at home". Patients should be treated as individuals and with respect. They should be considered as friends and neighbors and not as "clients". We believe in the doctor-patient relationship and don't consider ourselves as just "health care providers" and our patients as numbers. Hence, our mission "advanced eye care with a home-town touch".