Your Full Service Ophthalmology Practice
Contact Us
Enter your contact info and a member of our staff will contact you promptly.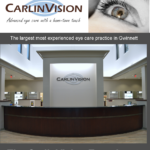 As the largest, most experienced eye care practice in Gwinnett County, CarlinVision gives you the best care possible for your eyes from our reputable doctors who have years of experience using the most advanced vision care technology. We also provide friendly, personalized "home town" service from our doctors and staff who take the time to get to know you, make you feel at ease and give you the time you deserve in a comfortable atmosphere. In other words, we treat you like our family and friends.
That is "The CarlinVision Experience".
I deeply enjoyed my visit. The waiting room was huge with nice soft chairs and sofas. Your staff is incredibly amazing. They were all friendly and kind. Thank you for the wonderful professional eye care facility. I couldn't imagine ever going anywhere else.
Thank YOU and your staff for making the CarlinVision Experience one to remember. I have been telling everyone about your quality care and the professionalism of your staff from the front door to the boutique to check-out. This is the best that I have seen in nearly 20 years! Thank you so much!
You and your staff are exceptional. Each and every one of you exhibited such concern and caring for me as your patient. Please believe me, I am overjoyed that I chose you to do my surgery. I am constantly telling my friends and family what an excellent physician you have. I will not hesitate to recommend CarlinVision to anyone who might need eye care. Thank you, thank you, thank you!