From the beginning to the end of cataract surgery, you will experience the full CarlinVision experience. Our experienced doctors and specially-trained surgical counselors guide you through the process and help you select the lens options best suited for your particular lifestyle. We are #1 in Gwinnett County and offer all FDA-approved lens options. The procedure is performed in our own state of the art, technologically-advanced surgical center by CarlinVision doctors. You'll experience a comfortable, relaxed atmosphere for both you and your family.
Enter your contact info and a member of our surgical staff will contact you promptly.
If you want a cataract treatment that will help you see better and feel more confident than ever before, a Blade Free Laser Cataract Surgery procedure at CarlinVision is your best option. We are the #1 provider of cataract surgery in Gwinnett County!
Cataracts are a common problem causing a clouding of the lens, most frequently a result of aging. Cataracts can also occur in certain families, from eye trauma, other systemic diseases or medications. If not removed, a person's vision will continue to deteriorate and may eventually lead to vision loss. More than 3.3 million cataract procedures are done in the U.S. each year.
Blade Free Laser Cataract Surgery is a revolutionary technology using the Zeimer® Z8 femtosecond laser making cataract surgery less invasive, more precise and accurate while increasing safety. We are able to perform out-patient cataract surgery at our very own state-of-the-art surgical center.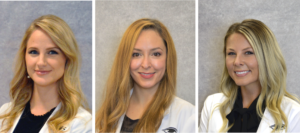 Holli, Jessica and Destiny
Surgical Counselors
Understanding your Cataract Surgery
– Life Before and After
Ziemer Z8
Patient Education Video
About Laser Cataract Surgery
About the Laser Cataract Surgery Procedure
During cataract surgery, two incisions are made into the eye. The capsule surrounding the cloudy lens (cataract) is opened; the cloudy contents are emulsified using ultrasonic energy and then vacuumed out of the eye. An artificial lens implant is placed into the eye.
With laser-assisted cataract surgery, perfect and precise incisions are made using a blade free femtosecond laser. The laser then fashions a perfectly round, perfectly centered opening of an exact diameter. The laser pre-softens the cataract, allowing it to be removed using less ultrasonic energy which makes the procedure gentler on the cornea (the clear crystal over the eye). Pre-existing astigmatism can be corrected with more reliability.
CarlinVision offers both conventional and advanced blade free laser options.
Cataract IOL Packages
When a cataract is removed, a clear intraocular lens is placed in the eye. There are three excellent options for you to choose from in our Cataract IOL Packages. The best is the one that will most enhance your particular lifestyle.
Premium Lens Implants
For those who would like to reduce their dependency on glasses after cataract surgery, CarlinVision offers several premium lens implants. Your input will help us select the best options for your particular visual needs.
For general information about cataract surgery, visit:
I thank you for your good work professionally and your great attitude as you performed my cataract surgery. I will be pleased to recommend CarlinVision to our friends.
I had cataract surgery in my left eye and now my vision is greatly improved in that eye. My doctor was caring and compassionate and listened to my issues. I want to thank all of your surgical staff and optical personnel for being so professional, thoughtful and caring.
Having blade free cataract surgery was a pleasant and pain free experience. The staff was very professional, made me feel at ease and answered all of my questions. I can truly say the Blade Free Cataract Surgery has been great for me. I'm 20/20 in both eyes.
More on Cataracts from Our Blog