For patients who would like to reduce or eliminate their need for glasses and contact lenses, but are too nearsighted (-5D to -20D) for Lasik, we are now able to implant a miniature lens directly inside the eye behind the Iris (colored part of the eye) and in front of your natural lens to provide clear, crisp vision.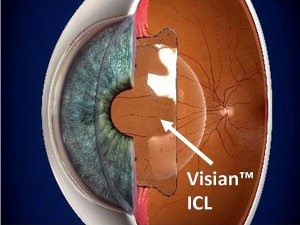 Similar to the lenses used for more than 50 years in cataract surgery, this outpatient procedure is virtually painless and takes approximately 10 minutes. One eye is done at a time, the second eye done one to two weeks later. Visual recovery is rapid and most patients will return to work the next day.
First implanted in Europe 35 years ago, more than 150,000 of these procedures have been performed worldwide with amazing results.
Advantages of the Visian ICL™:
Performance – excellent quality of vision, predictable and stable results
Simplicity – implanted through a micro incision similar to cataract surgery, requires no maintenance and is invisible to both you and observers
Versality – capable of correcting a wide range of nearsightedness and can be removed or replaced if necessary
Biocompatibility – made of Collamer®, does not cause a reaction inside the eye and contains a ultraviolet filter providing protection to the eye
Safety – proven procedure familiar to ophthalmologists

  Learn more about the implantable Visian ICL™.