Welcome Our New Doctors
As CarlinVision continues to grow and expand for your convenience, please welcome:
Casey O'Shea, M.D.
Dr. O'Shea, a native of Michigan, completed her medical degree at the University of Michigan and comes to us from the University of Louisville, where she completed her ophthalmology residency. She has performed important research and is a member of a number of organizations including the American Academy of Ophthalmology and Women in Ophthalmology. She is married to TJ, a dentist, and enjoys her infant son Emmett, as well as sports, running, cooking and animal welfare.
Matthew Floyd, M.D.
A native of South Carolina, Dr. Floyd completed his medical degree at the Medical University of South Carolina and his ophthalmology residency at Emory University Eye Center. He has published extensively and is a member of numerous organizations, including the American Academy of Ophthalmology, ASCRS, and the Georgia Society of Ophthalmology. Dr. Floyd is an outdoorsman who enjoys fly-fishing, sporting clays, golf and hiking. He recently returned from trekking in the European Alps.
The Economics of Lasik

The value of Lasik is undeniable! Freedom from glasses and contact lenses, being able to see the clock upon waking in the morning, vacations without the annoyance of extra eyewear, swimming, golf, tennis, hunting— all without the aggravation of glasses fogging or braking, or running out of contact lens solutions. But, of course there are economic considerations as to whether Lasik is right for you.
Lasik can be costly, but with our ongoing specials and 24 month NO interest financing, we do bring the cost down to affordable levels. Also, with Lasik, there is only a one-time fee. Enhancements at CarlinVision are free for life!
So, with eyeglasses needing to be replaced when out of style, damaged or when the prescription changes and the cost of contact lens replacement and solutions, etc., after 5 years Lasik is clearly the better bargain! And that is on top of the benefits!
Call Diana or Alex, our Lasik Facilitators, at 770-979-2020 Option 2 to schedule a Free Evaluation!
Where's the Best Place for Eye Surgery?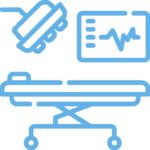 The answer is ….. The CarlinVision Ambulatory Surgery Center! And, the reasons are obvious. The center is owned by Drs. Richard and David Carlin, not some outside corporation who dictates policies based on their financial interests. We prefer to focus on what is best for our patients. We purchase the finest equipment, including femtosecond lasers for cataract surgery. We use the latest intraocular lenses, including the Alcon PanOptix® trifocal and Vivity™ extended depth of focus lenses. We provide the most up-to-date micro-invasive glaucoma surgery (MIGS), including iStent inject®, Kahook Dual Blade® and Xen® gel stents.
But, that's not all. What really makes us the best is OUR STAFF! Kristen, our Director of Surgical Operations, has assembled the finest nurses and technicians around who are extremely knowledgeable and experienced.  Best of all they are truly kind and caring. They understand the anxiety and concerns when undergoing eye surgery and, as any patient who has had eye surgery at our facility will tell you, they make the process easy and painless.
Why Eyes Water When They are Dry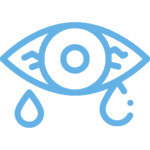 There are two types of tear secretions:
Basic comes from glands in the eyelids and the outer membranes of the eye and contain enzymes, water, mucous and oil, to nourish the outer part of the eye and wash out debris and bacteria.
Reflex, composed mainly of water, occurs when you cry, peel onions, have an infection, etc.
If the basic secretion is low, the eyes may become irritated which stimulates reflex secretions, thus causing the excess tearing. Unfortunately, this secretion does not nourish the eyes. Though it sounds paradoxical, if you treat the dryness with artificial tears, etc., the watering will stop!
Buying Glasses Online … Think Twice

While buying glasses online is advertised to save you money, you may want to consider the following:
It is harder to get glasses to fit properly, especially for those with significant prescriptions and those who wear bifocals. Improper fitting may lead to eyestrain, headaches and even double vision. For children, this can even cause lasting harm!
Choosing the right frame for your prescription and obtaining key measurements such as the distance between the pupils, the height and centration of a bifocal segment can be critical and can only be done in person. Online retailers often use a "one size fits all" approach.
You have no idea as to the quality of your purchase. Knock offs are common and frames may not last.  Lenses, especially bifocals, vary greatly in quality and may cause eyestrain, headaches and discomfort.
So, as the saying goes, Caveat Emptor… Buyer Beware!  For a better solution, talk to our licensed opticians at The Optical Boutique.
Contrast Sensitivity
When vision is 20/20 but you still cannot "see".

When your vision is measured on an eye chart in the doctor's office, you are reading black letters on a white background. You can have "perfect 20/20 vision" in the office, but still have difficulty seeing because the world is composed not of black and white, but rather shades of grey, which is measured as contrast sensitivity.
Loss occurs with age (about half the population over 50 has it), and though it can be mild and not interfere with daily function, it can be a sign of numerous eye diseases such as cataracts, glaucoma, dry eyes and macular degeneration. These can result in falls, difficulty driving at night, problems distinguishing objects of similar color or recognizing facial features. The treatment depends on the cause, which can be determined during a comprehensive eye exam.
When Should I Have Eyelid Surgery?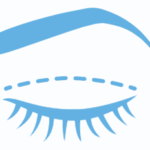 The time to consider eyelid surgery is when the following bothers you:
Puffiness of the upper eyelids.
Loose, sagging skin of the upper eyelids that affects the natural contour, sometimes even affecting vision. (Insurance may pay for this)
Excess skin, bags or droopiness of the lower eyelids.
The best candidates are those with good general health and no conditions that would affect healing, non-smokers, and those with realistic expectations for improvement, not perfection.
Interested? Speak to Allie, our Oculoplastics Surgical Counselor, at 770-979-2020 x224 for more information or to set up a free consultation.