The Pros and Cons of Lasik


Wake up in the morning, see the time, and being able to enjoy work and leisure without the hassle of glasses or contacts would be ideal! But the idea of eye surgery, while being awake, can admittedly be scary. Also price can be a deterrent. Here are some pros and cons to consider:
PRO:  Lasik eye surgery is quick and safe. Performed in the office, Lasik takes about 15 minutes, and most of that is in the preparation. Laser times are usually 20-60 seconds per eye while looking at a blinking light. Pre-procedure Valium helps calm nerves and, as an added safety measure, the laser will follow small eye movements and shut off if the eye moves too much.
CON:  Not everyone is eligible. Prescription, corneal thickness, corneal curvature, health of the eyes and general health all must be considered. A careful evaluation by Dr. Richard Carlin, our experienced Lasik surgeon, can rule out those who are not good candidates for Lasik and perhaps offer other options.
PRO:  Results are quick.  Most patients note significant improvement by the next day, gradually getting better and better over a few weeks.
CON:  Risks are possible.  Dry eyes are possible for up to 3 months, managed with artificial tears or other modalities. With today's technology, permanent dry eyes is rare. Nighttime glare and halos generally last a few weeks or less. Serious complications are exceedingly rare and are discussed during the evaluation.
PRO:  Vision will be greatly improved.  Over 94% see 20/20 after the procedure, with approximately 80% seeing better than 20/20.  Patients frequently tell us how eliminating the need for glasses or contacts has been life-changing!
CON:  You may need Lasik again. Sometimes, especially with higher degrees of treatment, there may be a minor decrease in vision over time. This can be corrected by an enhancement which, at CarlinVision, is FREE for life. Our late enhancement rate is just over 1%!
What You Need to Know About Cataracts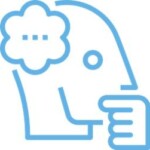 As the eyes age, the lens located behind the iris or colored part of the eye undergoes predictable changes. Proteins denature causing it to lose its flexibility. Patients notice this as a change in reading vision. Glasses that used to allow clear distant and near vision, no longer suffice. A different prescription for near tasks becomes necessary. Sometimes this becomes noticeable as near vision is now better without correction.
As the process continues, one notices more glare and haloes when driving at night. Things appear darker and harder to see. The lights in the house seem dimmer. These are the stages of what is known as a dysfunctional lens syndrome.
Further aging makes these changes more pronounced. Driving, especially at night, becomes more difficult. Watching TV and reading become less enjoyable and color vibrancy is reduced. The world looks more sepia-toned.
Unfortunately, there is no reversing the process. Glasses may help a little or not at all. The solution is cataract surgery, a 10-15 minute out-patient procedure performed at our surgery center in which the cloudy lens is removed and replaced with a clear artificial lens. Correcting astigmatism and eliminating glasses can even be done at the same time!
So, when is the right time? Cataracts do NOT have to be removed just because they are there. Yes, they will progress, albeit at different rates. But just because the doctor says you have a cataract does not mean it has to be removed. The time to do surgery is when YOUR visual symptoms bother YOU. When YOU feel the need and want to see better, that is the time for surgery. And when you are ready, we are here to make your experience as smooth and as easy as possible.
Why Are My Eyelashes Falling Out?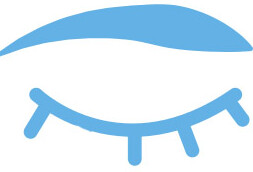 Eyelashes protect the eye from debris that can affect vision, cause infection, and injury. Since eyelashes replace themselves every 6 to 10 weeks, it is normal to lose between 1 to 5 eyelashes each day. More rapid lash loss (madarosis) can be a symptom of an underlying health problem in the eye or in the body.
Common causes of eyelash loss (with no hair loss)
Irritation from cosmetics:  insufficient removal, lash extensions, curlers, allergies, etc.
Blepharitis: clogged oil glands at the base of eyelashes cause chronic inflammation and problems in the lash follicles.
Trichotillomania: emotional or psychological stress causing a person to pull out their own eyelashes.
Skin cancer: rarely though, localized lash loss can be a symptom of a skin cancer on the eyelid.
Less common causes: chronic or recurrent styes and chalazia, ocular rosacea or mites, bacterial or fungal infections.
Common causes of eyelash loss (with hair loss)
 Alopecia: Auto-immune disease in which the body attacks its own hair follicles. May be long-term, hereditary, or acute triggered by surgery, chronic illness, fever, flu, anemia, child birth or aging.
Thyroid Disease:  causing lash and other hair loss. Other common symptoms of a thyroid disorder include changes in weight, heart rate and blood pressure.
Less-common causes: Collagen vascular disease, nutritional, hormonal, chemotherapy or radiation, medication, and stress.
Why Blue Eyes Aren't Really Blue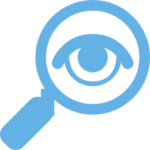 The iris or "colored" part of the eye is composed of two layers: the front stroma and the back pigment epithelium containing a brown pigment called melanin. The amount of brown pigment in the stroma determines eye color. Blue eyes have no stromal pigment, green or hazel eyes have some pigment and brown eyes have more pigment.
Reflected light makes the blue eye appear blue. Many people have a variation in color in the iris depending on the pigment. The genetics of eye color inheritance is complicated so parents with the same colored eyes may have a child with different colored eyes.
As there is little to no pigment, most babies' eyes are dark blue. As pigment accumulates, they lighten and may even turn brown, generally occurring within the first year.
Genetic research has shown that blue eyes probably only appeared in the last 6,000 to 10,000 years. Before then, everyone had brown eyes. As the color is due to reflected light, the color of one's eyes can indeed change, depending on lighting conditions.
What is Astigmatism?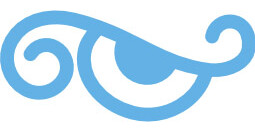 Astigmatism is an imperfection in the curvature of your eye's cornea or lens. Normally, the cornea and lens are curved equally in all directions (round like a basketball). This helps focus light rays onto the retina at the back of the eye. If not curved equally (like a spoon, egg or football), light is not completely focused on the retina and vision is blurred. This distorted shape can be due to the cornea (corneal astigmatism) or the lens (lenticular astigmatism). If the steepest curve runs vertically, it is called "with-the-rule" while if it runs horizontally, it is called "against-the-rule". Astigmatism can be corrected with glasses, contact lenses or Lasik.